Gol Gumbaz is the mausoleum of Muhammad Adil Shah, who ruled the Adil Shahi dynasty between 1490 and 1696. It was designed and constructed by the famed architect, Yaqut of Dabul, under the patronage of Muhammed Adil Shah. This dome, which is around 124 ft in diameter and stands unsupported by pillars, is considered as the second largest in the world.
The architectural design of this building includes 4 minarets of 8 storeys that can be entered by winding staircases terminating in cupolas. Around the inner periphery of the dome is a circular balcony that contains the whispering gallery. Any sound gets echoed around 7 times in the gallery and can be heard even on its diagonally opposite side.
Apart from having a floor area of 1,700 sq m, the tomb is 38 m in diameter and is of a height of 51 m. The tomb is placed in a large walled garden, which is designed in Persian style. On either side of the path that divides the garden lie the remains of buildings made of dark bricks.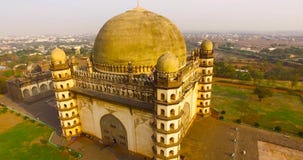 Exterior of the tomb has a triple set of arched recesses and medallions, both of which are filled with scroll works. The rectangular recess above the arch is believed to have held a granite calligraphy slab. The structure is rounded off by four octagonal turrets in each corner, which project at an angle. Apart from this, the edifice also has a mosque, guesthouses and a drum house.