At a distance of 2.5 km from Bidar Railway Station, Bidar Fort is one of the magnificent forts in Karnataka and main tourist attraction of Bidar.
The initial Bidar Fort is considered to have been built during the reign of the Western Chalukya dynasty which was established in 977 AD at Kalyani. Subsequently, it was captured by the Yadava dynasty of Devagiri and fell yet again to the Kakatiyas of Warangal. Bidar Fort was rebuilt by Sultan Ahmed Shah Wali of Bahmani Dynasty, when his capital was moved from Gulbarga to Bidar in 1430 along with a number of Islamic monuments.
The Bidar fort is a specimen of the Persian architectural style having 1.21 km in length and 0.80 km in breadth, with a quadrangular layout. Surrounded by three miles long walls and comprising 37 bastions, it is surrounded by a triple moat.
There are seven gates in the fort. The dominant main gate exhibits Persian style architecture. The Gumbad Darwaza depicts arches with stilted size, also in Persian style. The Sherza Darwaza, the second gate of entry depicts two images of tigers carved on its fascia. The other gates are the Fateh Gate on the south, Talghat Gate in the east, Delhi Gate and Mandu Gate. The prominent bastion at the entry is known as the Munda Burj with guns positioned on it.
Within the fort complex, there is an old city, with monuments and structures from Bahamian era. Among these monuments, Gagan Mahal, Rangin Mahal and Tarkash Mahal are most popular. Jami Masjid and Solah Khamba Masjid are the two notable mosques constructed within the fort.
The inner section of the fort behind Solah Khamba Mosque has few wonderful monuments like Diwan-i-Am (also known as Jali Mahal) was a Public Audience hall built by Bahamani Sultans in 14th-15th centuries. It is currently in ruins. The Jalis can be still in the upper windows of the structure.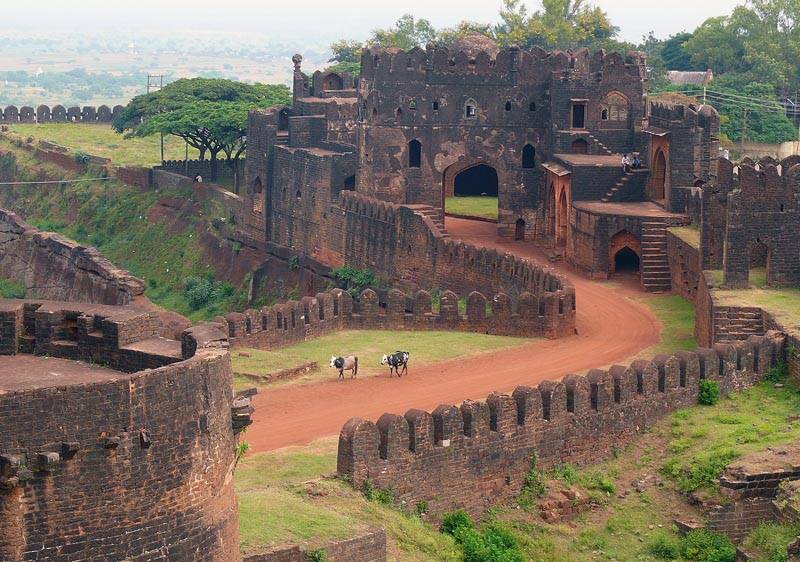 Beside the Diwan-i-Am is a wonderful structure known as Diwan-i-Khass also called Takht Mahal or Throne Palace. It was built by Bahamani Sultan Ahmad Shah between 1422-1436. This is the place where coronation of several Bahamani and Barid Shahi sultans was taken place. The palace used to be adorned with beautifully colored tiles and stone carvings part of which can be still seen on the arches. This structure is closed for public and the outer sections can be seen from outside.
Behind Diwan-i-Khass, an old temple known as Valkoti Bhavani temple exists along with few settlements.
The fort is considerably in good shape and one of the best forts in Karnataka.
Timings: 9 AM - 5 PM